Ready to get your brand seen and heard? In 2023, guest blogging will be a must-do for content marketing success. But how can you stand out among the competition? Don't worry, we've got just what you need! Follow our top 7 strategies and take your blogosphere splash to new heights: from choosing the perfect platforms to crafting amazing content that readers won't forget anytime soon! It's time to level up the guest blogging strategy.
All About the Niche Compatibility
Ultimately, the potential blogger's niche must relate to your niche. Writing about the importance of SEO on a blog dedicated to the latest gadgets would not produce favourable results. Although there may be some areas of overlap, this could potentially create confusion and lead readers away from your site. Therefore, choosing an appropriate guest blogger is key to optimising the content of your site.
When considering potential bloggers, it is important to think about their quality of work; their proven track record and their established audience. Your blog needs to provide original, valuable content if you want to capture readers' attention. Your readers will not settle for anything less than the best.
Let's say you run a blog on, 'Google Ads strategies' you may occasionally receive inquiries seeking to submit guest content. With your focus on Google Ads, it makes sense to select someone with expert knowledge about the niche and who can provide the best expertise on Google Ads. Focus on generating targeted, high-quality traffic and consistently providing content that resonates with your readers. This will create an enduring relationship and make them rely on you as their trusted source for valuable information. 
Let us look forward with the Guest Blogging strategies that work in 2023!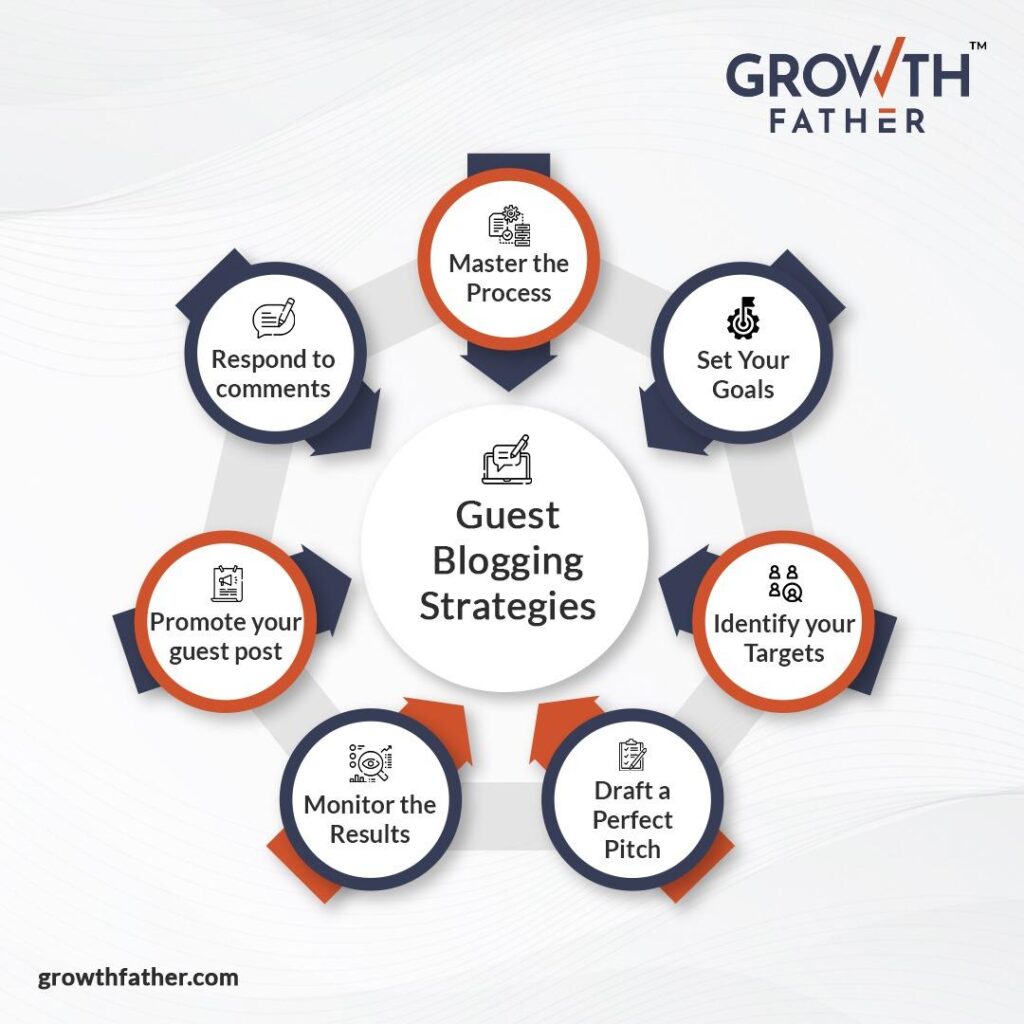 7 Winning Guest Blogging Strategies for 2023
Master the Process:
The goal of learning how to effectively utilise blog outreach and target influential blogs, as well as how to craft compelling pitches and drafts, is to maximise the efficiency of getting published on high domain authority (DA) sites. Additionally, when performing email outreach, it is essential to craft messages that are both personal and professional and to avoid any overly promotional language that may lead to the email being ignored.
Set Your Goals:
An effective guest blogging strategy begins with setting a perfect goal. Driving traffic to your site or a certain landing page generates more leads and sales. Building awareness about your products, services, and brands, as well as improving search engine optimisation by gaining more inbound links, can also hold a high rank on your goal checklist. Position yourself as an expert to get more engagement. Increasing your social media audiences and improving your email subscribers can also be set as your goals for outreach.
Identify your Targets:
It is important to consider the niche of your blog to determine your target audience. A niche may have multiple potential audiences, and it is necessary to determine the best suited readers for the same. The target audience could be professionals in the field, hobbyists, or even those who are just looking for information on the topic. Good research on your target audience will definitely help you find the perfect one.
Draft a Perfect Pitch:
In order for your guest blogging strategy to be successful, it is critical to not send generic pitches. Craft an individualised pitch that will be appealing to each site owner.
In crafting a successful pitch, it is essential to keep it concise and tailored directly to the recipient. Additionally, ensure that you have included the individual's First name; many site owners are unlikely to read pitches from individuals who have not conducted the basic research necessary to verify this critical detail.
The third step in creating an effective pitch should be to include the post title. To maximise impact, it is recommended that this title be featured both in the email subject line and the body of the email. Following this, provide a brief description of the post. Provide a brief overview of the post and explain why you are best suited to write it. It is important to remember that this is not a resume; simply emphasise a few highlights that make you well-suited for the task.
Monitor the Results:
In order to gain an understanding of the benefit derived from a guest post, tracking results are necessary. Potential metrics to measure include
The social shares you have received
The amount of referral traffic
The number of new website visitors
The number of comments
The number of new leads generated
The changes in SERP placement
The number of links or brand mentions
By keeping track of the analytics, you can see which of your guest posting sites have been most successful for you. This way, you'll know which ones to target for your upcoming guest posting needs!
Promote your guest post:
To maximise the reach of your guest post, it is essential to promote it effectively once it has been published. Therefore, focus on promoting the written piece.
This can be achieved in a few steps:
Develop a short post on your own blog and let your readers know about the new content you've posted. Linking to the new content can also increase traffic.
Share the post on all your social media profiles. Increasing social shares also increases traffic.
Share with your email subscription list.
Respond to comments:
When it comes to guest blogging, it is essential to remember that the work does not end after the post is published. It is important to check back periodically to monitor the post's engagement, particularly when it comes to commenting. Ignoring comments can be perceived as unprofessional and discourteous, and can also stunt the blog's reach and effectiveness.
Being an active participant in the community of a guest site is an essential part of increasing the conversion rate of a guest post. Interacting with people who read the post can be incredibly beneficial in increasing the conversion rate.
The True Benefits of Guest Blogging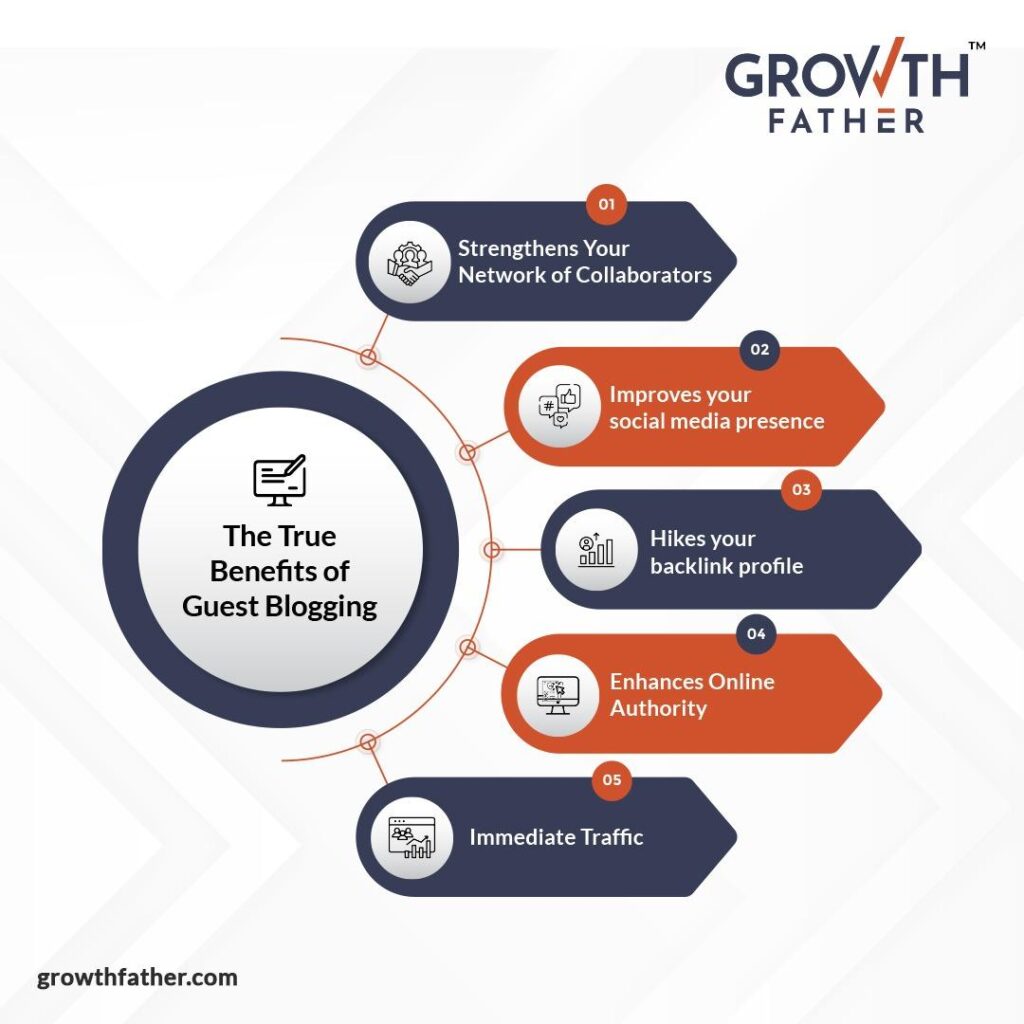 Strengthens Your Network of Collaborators:
Collaborating with the websites in your niche and writing high-quality content for them is a great way to increase backlinks and traffic to your website. Additionally, building relationships through this type of collaboration can be even more beneficial in the long run.
In the future, these connections can be used to facilitate collaborations beyond content publishing. Such possibilities include co-marketing, running podcasts, hosting webinars, and more. Guest blogging can be a beneficial white-hat link-building strategy, however, it has the potential to become an unethical "link scheme" if not managed appropriately.
Improves your social media presence:
Guest blogging is a great way to increase the reach of your content by allowing it to be shared more widely on social media. When you join the team of a reputable blog, you benefit from its good reputation and can use that as an endorsement for your own brand. Also, many reputable blogs will allow you to link your social media accounts as part of their team of writers.
Hikes your backlink profile:
Guest posting can be an effective strategy to enhance one's backlink profile. Allowing contributors to include links to their own website, provides an advantage for SEO as search engines can access these backlinks. To ensure relevancy and maximise results, it is important for individuals to target websites within the same niche when pursuing guest posting opportunities.
Enhances Online Authority:
Guest blogging can be an effective way to bolster your website's authority. As people come to recognise and trust a brand, their perception of its products is likely to improve as well. Establishing visibility on blogs that are widely read by your target audience can be critical to building the trust needed to ensure the success of your website.
The content on our blogging site should be of the highest quality in terms of what the readers are looking for. This approach demonstrates to our audience that we possess a great deal of expertise in the field, ensuring them that the website is reliable.
Immediate Traffic:
Guest blogging can be a great way to increase interest in your website and draw more traffic. If you are a talented writer who creates high-quality content, you can expect to see a considerable boost in website traffic as a result of contributing to other websites.
Finding the Best Guest Blogging Opportunities
Standard Google Search:
This strategy is based on leveraging the capability of search engines to maximise benefits. The approach has straightforward: continued combining appropriate keywords until all potential queries have been assessed.
For those seeking to publish SEO-related content, a starting point is to conduct a search on Google using keywords such as "SEO guest blogging," "SEO write for us," or "SEO writer guidelines."
The Competitor's backlink:
Competitors can act as valuable resources when looking for new methods to improve SEO and link-building strategies. Analysing backlinks can provide valuable information on the quantity and type of links to a key website. This data can then be used to identify blogs and domains suitable for content publication, aiding in improving search engine rankings.
Image Reverse Search:
One technique for obtaining high-quality backlinks for your website is to monitor competitors within your niche or market who use guest blogging. By staying up to date on their strategies, you can stay one step ahead of the competition.
The following procedure can be adopted for the same:
To identify your target, simply copy their headshot and paste it into Google's reverse image search.
This will provide you with a refined list of sites where the person's headshot has been published. This list will give you plenty of information to develop your guest blogging strategy by following the trace of your prospects.
Ahrefs:
Using Site Explorer and Content Explorer within this tool, users have the capability to find hundreds of potential prospects for guest blogging within their niche. This is done by entering a broad phrase or keyword associated with the user's niche into the search bar, followed by selecting "in the title" from the drop-down menu, and finally running the search. This process will produce results that are tailored to the user's needs, making the process of finding prospective guest bloggers much more efficient. The user will be able to narrow their results even further by adjusting the filters to their desired criteria. Ahrefs provides an incredibly useful resource for those wanting to gain exposure in their respective niches through guest blogging.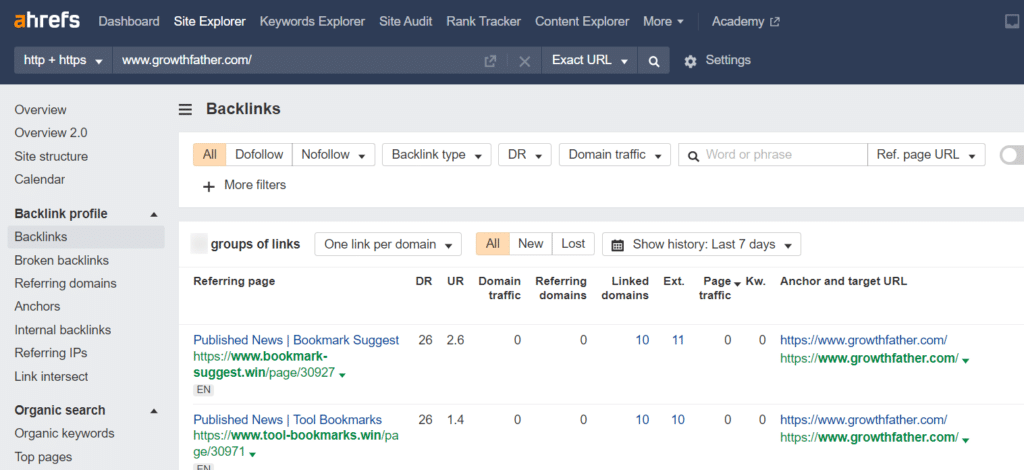 Now select the "one page per domain" filter, the "exclude subdomains" filter, and the "exclude homepages" filter. This combination of filters will provide a list of blogs that have published content related to the keyword entered and, thus, are more likely to accept a proposal for a guest post on the same topic. While this is not a guarantee that they will accept the post, it provides a better starting point than randomly selecting blogs to contact.
Semrush:
Semrush is a powerful tool that can help you find effective guest posting opportunities in two distinct ways. Through Semrush's Domain Analytics feature, you can search a domain and discover its organic competitors. Semrush provides a comprehensive backlink analysis that allows you to identify any high-quality websites that may have backlinks to the domain in question. By leveraging this analysis, you can reach out to the owners of these websites and ask if they are open to receiving guest posts. This two-pronged approach allows for a greater chance of success in your quest for guest posting opportunities.
The Backlink Analytics feature is an invaluable tool for assessing the efficacy of a website's SEO strategy. Through this feature, one can quickly and easily determine the number of backlinks a page has acquired. Moreover, the users can filter the link results according to whether they are no-follow or do-follow links.
Is Guest Blogging Still Worth it in 2023?
The Importance of brand visibility:
In our modern digital age, there is no denying the importance of visibility when it comes to the success of a brand. As each year progresses, digital habits become more and more entrenched in modern society, and this prevalence of digital habits can be seen in the number of people using search engines and engaging on social media. As such, it is clear that higher visibility for a brand in the digital space is essential to stand out from the rest and draw in potential leads. This visibility, which is often the leading factor in success, is key to establishing a presence in the digital space and ensuring that potential leads are aware of the brand. This ultimately leads to a higher conversion rate and a more successful brand.
Guest blogging on popular sites is an effective way to increase website visibility and, ultimately, web traffic. By creating and disseminating content on these sites, more people will be exposed to the brand, resulting in increased brand awareness that can then lead to more organic searches and referrals.
The worth of brand credibility:
Domain authority hosting your content provides a significant opportunity for your brand to increase its credibility. By hosting your content with a well-respected domain authority, you can target a fine audience composed of those who are interested in consuming the type of content you create. By hosting content on a domain with high authority, content creators have the confidence to know that their work will be seen by a wider audience and given the attention it deserves.
As you continue to post blogs on various websites with similar topics, your audience will become increasingly aware of you. This can lead to organic traffic and even potential customers who are interested in learning more about what you have to offer.
The never-ending relevance of backlinks:
While minor details may have shifted, backlinks remain a crucial component for effective SEO optimisation of websites. Having respected and reliable sources link to your website can build credibility and increase its visibility. The importance of the domain authority of the platforms where content is hosted cannot be overstated. In search engine optimisation, context and relevance are paramount and should be taken into account.
Guest blogging is an effective approach to address these factors. When creating content that both benefits your audience and provides valuable backlinks, there is no reason to pass up this opportunity.
Conclusion:
Guest blogging is still alive and kicking in 2023, and it's an effective way to get your brand in front of new audiences. But it's not as simple as "write an article and post it". You need a strategy to make the most of your guest blogging efforts.
Guest posting is a well-thought-out SEO strategy that can significantly contribute to increasing your website's ranking and driving targeted traffic. Paying close attention to the quality of the posts should always be a priority, as should ensuring that keywords are strategically used and original content is provided. Developing high-calibre guest posts will not only help you stand out from the competition but also promote valuable engagement with readers. Take your brand to new heights with GrowthFather's top SEO services and guest blogging tactics. Dominate organic searches, attract targeted traffic, and skyrocket your revenue. Experience the growth you deserve – contact us now!